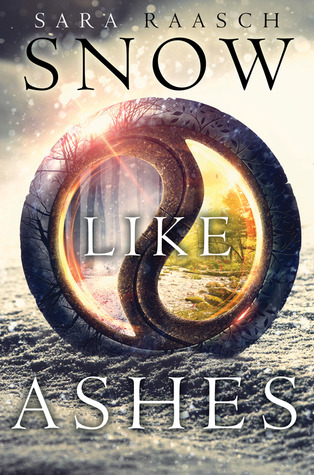 Snow Like Ashes by Sara Raasch
Rating: 4 Stars
Series:
Snow Like Ashes #1
Release Date:
October 14, 2014
Goodreads synopsis:
A heartbroken girl. A fierce warrior. A hero in the making.

Sixteen years ago the Kingdom of Winter was conquered and its citizens enslaved, leaving them without magic or a monarch. Now, the Winterians' only hope for freedom is the eight survivors who managed to escape, and who have been waiting for the opportunity to steal back Winter's magic and rebuild the kingdom ever since.

Orphaned as an infant during Winter's defeat, Meira has lived her whole life as a refugee, raised by the Winterians' general, Sir. Training to be a warrior—and desperately in love with her best friend, and future king, Mather — she would do anything to help her kingdom rise to power again.

So when scouts discover the location of the ancient locket that can restore Winter's magic, Meira decides to go after it herself. Finally, she's scaling towers, fighting enemy soldiers, and serving her kingdom just as she's always dreamed she would. But the mission doesn't go as planned, and Meira soon finds herself thrust into a world of evil magic and dangerous politics – and ultimately comes to realize that her destiny is not, never has been, her own.
The high fantasy world that Sara has created is truly remarkable and unique; there are eight kingdoms in Primoria, four Rhythms with changing seasons, and four Season kingdoms. During the novel's time, one of the Seasons, Winter, has been sacked by Spring and its ruthless ruler. The story follows
Meira, an orphaned girl that is one of eight surviving Winterian refugees; eight people who have devoted their lives to freeing Winter.
The world building was done wonderfully and it was very interesting to learn more about each kingdom. I thought it was interesting how Sara chose to make Spring the destructive, deadly force and Winter the victim since normally we associate winter with death (such as of trees) and spring with new life and new beginnings. The world building was perhaps the best and most unique of all the YA high fantasy novels I've read.
However, I thought the book started a little slow and took some time to get into, but at around 40-50% through, it started getting really good and after that, I finished it in about two days. The drag in the beginning is the reason why I didn't give this five stars.
In terms of characters, Sara does an amazing job making Angra, the ruler of Spring, a truly detestable villain with no redeeming qualities. Normally, I'd find something good about the villain that makes him or her remotely redeemable, and sometimes I even like the antagonist, but Angra is someone that I loved to hate throughout the entire story. The love triangle between Meira, Mather, and Theron adds a nice spark of romance to the otherwise action packed novel and I jumped from both guys throughout. At first I rooted for Mather, then when I found out what Sir and Mather did, I was Team Theron and remained that way for most of the book (he gets bonus points for being so selfless!), and sort of went neutral at the end, mainly because I felt so bad for Mather.
Overall, Snow Like Ashes has a slow beginning but the fast paced nature of the second half makes up for that, and the world building and characters are truly amazing. :-)