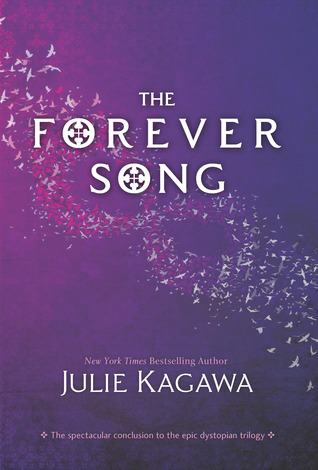 The Forever Song by Julie Kagawa
Rating: 5 Stars
Series: Blood of Eden #3
Release Date: April 2014
Goodreads synopsis:
Allie will embrace her cold vampire side to hunt down and end Sarren, the psychopathic vampire who murdered Zeke. But the trail is bloody and long, and Sarren has left many surprises for Allie and her companions - her creator Kanin, and her blood brother, Jackal. The trail is leading straight to the one place they must protect at any cost - the last vampire-free zone on Earth, Eden. And Sarren has one final, brutal shock in store for Allie.
In a ruined world where no life is sacred and former allies can turn on you in one heartbeat, Allie will face her darkest days. And if she succeeds, her triumph will be short-lived in the face of surviving forever alone.
Julie never ceases to surprise, so I thought I was ready for the unexpected; boy was I wrong! The Forever Song was an epic conclusion to an amazing trilogy, but I wasn't satisfied. The ending left me wanting even more, so here is to hoping that a spin off is in its future (Maybe with Jackal? One can hope!)

I have to admit, I loved the beginning of the book. Allison's lack of humanity showed the depth of her character and ironically showed her ability to love and care. The things she did without her humanity just showed that Julie isn't for glossing around and making vampires human loving creatures, rather, it showed that vampires are bloodsucking creatures above all, which I loved. There was some amazing character development for Jackal as well as other central characters, and as usual he provided the much needed comic relief to the gory and violent scenes. I fell in love with almost all of the characters (especially Jackal & Kanin); they were all so well developed and three dimensional and so real.

When I was around 75% of the way done, I thought it became easily predictable…after all; the good guys always come out triumphant and alive right? Guess who was wrong again? Me. Julie Kagawa is never predictable and will always knock you off your feet. She has a one of a kind writing style and has set the bar up there ever since her debut novel. After finishing the novel, I felt so drained and emotional; I still feel very unsatisfied and I feel like there is so much potential for more. (Kind of the feeling we all got from The Iron Queen!)

Overall, this will not disappoint and I will most definitely be recommending this extraordinary series to my friends and family!