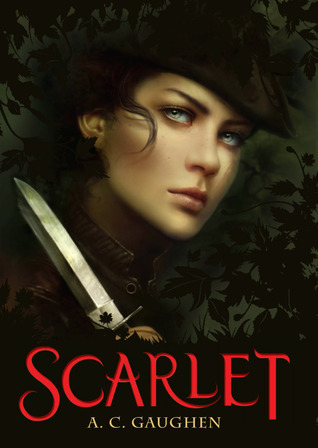 Scarlet by A.C. Gaughen
Rating: 4.5 Stars
Series: Scarlet #1
Release Date: February 2012
Many readers know the tale of Robin Hood, but they will be swept away by this new version full of action, secrets, and romance.
Posing as one of Robin Hood's thieves to avoid the wrath of the evil Thief Taker Lord Gisbourne, Scarlet has kept her identity secret from all of Nottinghamshire. Only the Hood and his band know the truth: the agile thief posing as a whip of a boy is actually a fearless young woman with a secret past. Helping the people of Nottingham outwit the corrupt Sheriff of Nottingham could cost Scarlet her life as Gisbourne closes in.
It's only her fierce loyalty to Robin—whose quick smiles and sharp temper have the rare power to unsettle her—that keeps Scarlet going and makes this fight worth dying for.
Scarlet is a retelling of the legend of Robin Hood, but rather than focusing on Robin himself, A.C. Gaughen chooses to shine the limelight on Will Scarlet, a member of Robin Hood's merry men in the original tale. Gaughen modifies all of the characters in ways that enhance the story and lends an original touch to a classic tale. All three of the main characters, Scarlet, Robin, and John, are likable and well written. Scarlet proves herself to be independent and determined, Robin fulfills his role as a hero to the core, and John displays a caring and loving side to complement his playful ways. However, like all believable and realistic characters, our heroine and heroes are flawed. For example, Scarlet has a split personality in some cases; she leads John on one day but shuts him down the next without any explanation.
I didn't really favor the writing style, since it is told through Scarlet's point of view, and she speaks in poor grammar and uses an abundance of slang words. Although I was annoyed with this at first, the explanation that comes in the later part of the story explains it well. The writing contributes to Scarlet's character and is a part of who she is, which makes the prose much more tolerable and understandable.
I am definitely a Scarbin...or Roblet... shipper and they are absolutely adorable together! I enjoyed the scenes with Scarlet and Robin and love their relationship with each other. It's stormy and far from perfect, but they're both willing to try to make it work!
Rather than give all the characters a fairy tale "happily ever after", A.C. doesn't hesitate to hurt our heroes and make plans go awry. This makes it, again, much more realistic. I find that happily ever after endings where the bad guys are taken out of the picture completely and the good guys get to rejoice are overdone in YA. Of course, there is a sequel, so this is probably expected. I can't wait to see how A.C. makes it all work in the second book,
Lady Thief
.