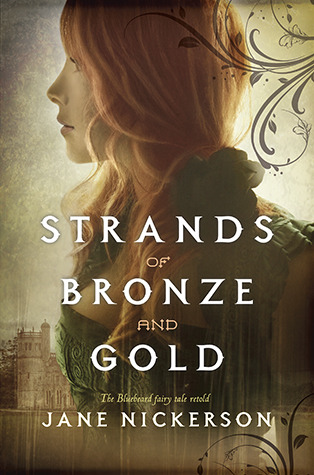 Strands of Bronze and Gold

by Jane Nickerson

Rating: 4 Stars


Series: N/A




Release Date: March 2013

The Bluebeard fairy tale retold. . . .

When seventeen-year-old Sophia Petheram's beloved father dies, she receives an unexpected letter. An invitation—on fine ivory paper, in bold black handwriting—from the mysterious Monsieur Bernard de Cressac, her godfather. With no money and fewer options, Sophie accepts, leaving her humble childhood home for the astonishingly lavish Wyndriven Abbey, in the heart of Mississippi.




Sophie has always longed for a comfortable life, and she finds herself both attracted to and shocked by the charm and easy manners of her overgenerous guardian. But as she begins to piece together the mystery of his past, it's as if, thread by thread, a silken net is tightening around her. And as she gathers stories and catches whispers of his former wives—all with hair as red as her own—in the forgotten corners of the abbey, Sophie knows she's trapped in the passion and danger of de Cressac's intoxicating world.




Glowing strands of romance, mystery, and suspense are woven into this breathtaking debut—a thrilling retelling of the "Bluebeard" fairy tale.

***




The strongest part of the story is Jane's excellent prose and execution of a fairy tale retelling. I actually searched Bluebeard on the internet to get the general plot (I thought it was about pirates before I did...), which may not have been a good idea. However, despite sort of knowing the outcome, Jane kept me engaged throughout the book for the most part and it never felt draggy for long. I am also very glad that Jane added her own twists and turns to the retelling throughout, especially with the outcome and resolution at the end.




Another aspect I really liked is that the story doesn't really focus on romance, aside from Monsieur Bernard de Cressac's affairs, as most YA novels do these days. There is romance, but I didn't care too much for it, and nor did it take up a major part of the story. The lack of focus on romance was certainly refreshing and made Strands of Bronze and Gold

stick out from the rest.




The one big problem I had with the book, and the reason why I gave it four stars instead of five, is with most of the characters. I found myself getting annoyed at almost all of the characters, including Sophie. Although Jane probably made her heroine willfully weak in the beginning to show her development throughout the novel, I believe the best (and hardest to write) character development is when the heroine or hero starts off initially strong as well. Despite this, Sophie does redeem herself towards the end - better late than never, right?

However, Sophie's siblings were the main recipients of my annoyance. Despite Anne attempting to redeem herself towards the very end, I fail to see any of the siblings genuinely take action and care for Sophie; to me, it seemed like all they wanted from her was money.




Bottom line: If you're into fairy tales and historical fiction (that sounds like a paradox), you should definitely give this a try. However, if you're expecting intense romance as in many Young Adult novels or a very strong, independent heroine, then don't.