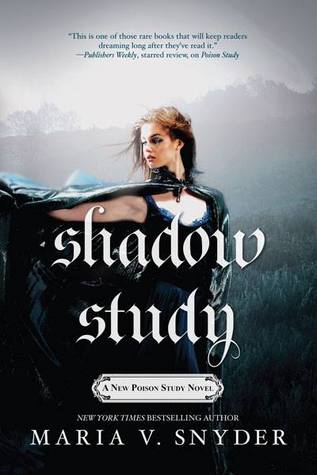 Shadow Study by Maria V. Snyder
Rating: 5 Stars
Series: Study #4 / The Chronicles of Ixia #7
Release Date: February 2015
Goodreads synopsis:
Once, only her own life hung in the balance.
Oddly enough, when Yelena was a poison taster, her life was simpler. But she'd survived to become a vital part of the balance of power between rival countries Ixia and Sitia. Now she uses her magic to keep the peace in both lands and protect her relationship with Valek.
Suddenly, though, they are beset on all sides by those vying for power through politics and intrigue. Valek's job - and his life - are in danger. As Yelena tries to uncover the scope of these plots, she faces a new challenge: her magic is blocked. She must keep that a secret - or her enemies will discover just how vulnerable she really is - while searching for who or what is responsible for neutralizing her powers.
Yes, the days of tasting poisons were much simpler. And certainly not as dangerous.
Where do I even start? I had very high expectations for
Shadow Study
since the moment I found out Maria was going to continue the series. In one word,
Shadow Study
was spectacular. I finished it in under two days, and my only regret is not savoring it longer. It not only met my expectations, but rather it far exceeded them.
One of the most notable differences between this and the first three Study books is the different POVs; Yelena, Valek, and Janco's. I really liked hearing the inner thoughts of the other characters as opposed to just Yelena's, and I found myself favoring Valek's chapters. The alternation of chapters also created a lot of suspense and mini-cliffhangers, which I really liked since it gave the book a nice pace. Through Valek's chapters, we also find out a lot more about his past and his relationship with the Commander. The more I learn about him, the more I just want to give that man a bear hug (provided he doesn't shoot me with his darts if I try to get close)!
As previously demonstrated, Maria is an excellent an talented storyteller and I felt as if I was in Ixia and Sitia along with the characters - I sympathized with them during the bad times, laughed with them whenever Janco was around, and was happy when something went right for our favorite heroines and heroes. Although there were some interesting new characters introduced, Valek and the Commander remain two of my favorites despite some of the conflicts... and since I want to make this as spoiler free as possible, I won't say any more. ;)
The ending is satisfying, but there are still a lot of questions left unanswered, which will probably be resolved in the next two books. Maria definitely kept me surprised and on my toes throughout!
Well now I'm off to reread the entire series for the umpteenth time as I wait over a year for
Night Study
, but if you get one thing from this review, it's to go pre-order the book now!