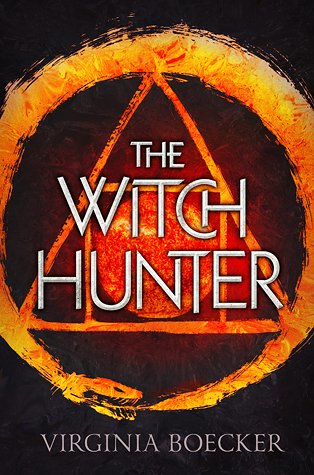 The Witch Hunter by Virginia Boecker
Rating:
4 Stars
Series: The Witch Hunter #1
Version: Advanced Reader Copy
Release Date: June 2nd, 2015
Goodreads Synopsis:
Your greatest enemy isn't what you fight, but what you fear.




Elizabeth Grey is one of the king's best witch hunters, devoted to rooting out witchcraft and doling out justice. But when she's accused of being a witch herself, Elizabeth is arrested and sentenced to burn at the stake.




Salvation comes from a man she thought was her enemy. Nicholas Perevil, the most powerful and dangerous wizard in the kingdom, offers her a deal: he will save her from execution if she can break the deadly curse that's been laid upon him.




But Nicholas and his followers know nothing of Elizabeth's witch hunting past--if they find out, the stake will be the least of her worries. And as she's thrust into the magical world of witches, ghosts, pirates, and one all-too-handsome healer, Elizabeth is forced to redefine her ideas of right and wrong, of friends and enemies, and of love and hate.




Virginia Boecker weaves a riveting tale of magic, betrayal, and sacrifice in this unforgettable fantasy debut.
The Witch Hunter
is Boecker's debut novel, and is one that I have been waiting on for a while; in fact, I think I did a Waiting on Wednesday a few months back on it. In summary, this book is set in a fantasy version of ~16th century England, in a world where witches, ghosts, faeries, revenants, etc all exist. The story is centered around former witch hunter Elizabeth Grey, who is accused of witchcraft herself and turns over to a powerful wizard and his allies for help.
I thought the concept of this book was pretty interesting. Although there are quite a few YA books with witches, I haven't seen many YA books with a focus on inquisitors or witch hunters, so that's pretty unique. I was surprised to see that the writing is pretty simple compared to some of the YA books I've read recently, and it was a nice breath of fresh air. Boecker describes things "just enough" without overdoing it or inserting
too much
imagery.
Another thing I really liked was that it didn't end in a cliffhanger! It actually sort of ends in a happy ending, but Boecker also leaves some questions lingering for the second book. Sure, I don't mind cliffhangers all that much usually, but I hate waiting!
However, although the plot is great, my biggest complaint is that it went by a little too fast and as a result, some characters were underdeveloped. There was room for at least another couple of chapters in order to develop the characters better. I don't really feel a connection to John, George, etc. and felt like I don't actually know them yet. Hopefully, we get to know more about them in the sequel.
Overall, I recommend this book to YA fantasy fans and/or YA historical fiction fans. :-)