To celebrate Halloween, we'll be doing a Creatures of the Night Book Tag, created by booktuber Katytastic (Here's her video)
We'll be recommending some of our favorite books with these paranormal creatures!
The Coldest Girl in Coldtown by Holly Black
When Tana was a little girl her world had made a ground breaking discovery, vampires are real, and they can infect you. Now several years later Tana is a teenager, vampire bounty hunters roam the land, the infected are thrown in quarantined "coldtowns", and teenagers have an excuse to stay at a party from dusk 'til dawn. The wonderfully unique thing about it is that life is pretty much normal for the main character, until it doesn't and she wakes up surrounded by corpses. Piece by graphic piece Black slowly describes the massacre forcing to scramble to put the horrify scene together along with Tana. This is one of the most original takes on vampires I've read in awhile and Holly Black can scare like no other.
Silver in the Blood series by Jessica Day George
In this historical fantasy upon turning seventeen Dacia and Lou are forced to travel to Romania to learn for about their extended relatives, family obligations, and shape shifting powers. Unbeknownst to the
Florescus girls, across a beautiful an eerie manor setting, the secrets of another
ancient
family may prove even more dangerous than their own.
Ashes by Ilsa J. Bick
Bick's dystopia is literally quite close to home. Unexplained forces result in electromagnetic waves that change the minds/brains of millions to turn them either into mindless (or maybe not as mindless as we think!) or changed beings with interesting powers. This could probably fall under superhumans too... But the "Changed" are out for brains, and perhaps even more, in the post-apocalyptic world where electronics can't save you.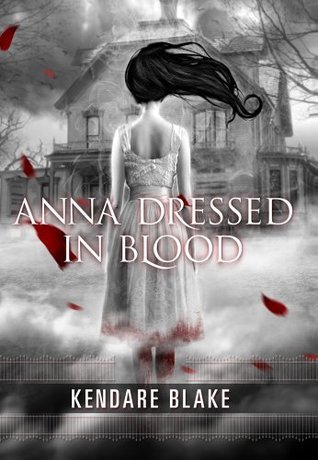 4. Ghost
Anna Dressed in Blood
by Kendare Blake
In the gothic and down right scary atmosphere Blake empower Anna's blood dripping ghost with power to truly terrify. And at times thats exactly what she does to Cas Lowood, a seventeen year old professional ghost banisher. Anna has killed everyone that has ever stepped into her house, until Cas.
5. Witch/Warlock/Spellcaster
The Seven Realms series
by Cinda Williams Chima
In the world of the Seven Realms, there exists multiple factions - most of them waging an inner war. The clans hate the wizards, calling them 'jinxflingers'. Likewise, the wizards hate the clans, proclaiming to be more superior. Both want a place on the Grey Wolf Throne, and as a result, the Queens of the Fells must make life-change decisions in order to maintain the peace. Chima does a great job of connecting different types of magic - the talismans and the healing spells and the jinxes, to weaving a tale of forbidden love and coming of age.
A Court of Thorns and Roses series
by Sarah J. Maas
A a retelling of beauty and the beast Sarah J. Mass' s world stands out on it own for its creative faerie creatures and magical realms. As the the sole provider for her family, Feyre, a beautiful huntress, is furious when she is forced into the Farie Realms b

y her would be murder turned reluctant captor, High Faere Lord Tamlin. Mass slowly integrates us along with Feyre into this magical mysrious land, introducing different kinds of fae and places one by one always adding her' own dark twist.
City of Bones
by Cassandra Clare
City of Bones and The Mortal Instruments series
by Cassandra Clare. The series focuses on a group of demon hunters known as Shadowhunters. The Shadowhunters are also known as Nephilim
and their purpose is to rid the earth of demons.
Daughter of Smoke and Bone by Laini Taylor
In this world angels and monsters are intertwined in an ancient war and the angels have just started their end game. Caught in the middle is Karou, the
"adopted" child of a

monster with

a magical shop. But now the doors to the magical shop are closing, sealed with a

scorch

mark of

heavenly

fire. While trying to find a way back to her the only family she's ever known she catches the attention of a not so

guardian

angel.
Yes, there are Angels in this series, but not your grandma's angels. Taylor reimagines them in a light that is far from scripture, casting them as more warrior like and flawed, in a way not wholly unlike
Supernatural
, that makes you question which side has the real monsters.
A sci-fi fantasy retelling of fairytales, The Lunar Chronicles follows Cinder as she discovers who she is and how to stop the evil Queen Levana - ruler of the Lunars species who live on the moon and have mind- control abilities. These aren't your usual aliens with green skin and peaceful intentions, Levana wants to take over the world.

10. Superpowered human
Graceling
by Kristin Cashore
Gracelings are humans with special abilities that are all unique to every person. Katsa's been able to kill a man with her bare hands since she was eight.
Happy Halloween! We hope you found some spooky/mystical suggestions for your next out of this world read!