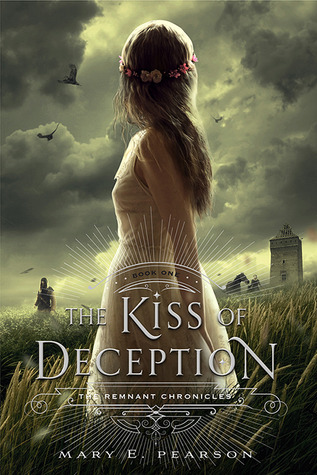 The Kiss of Deception by Mary E. Pearson
Series:
The Remnant Chronicles #1
Goodreads synopsis:
A princess must find her place in a reborn world.
She flees on her wedding day.
She steals ancient documents from the Chancellor's secret collection.
She is pursued by bounty hunters sent by her own father.
She is Princess Lia, seventeen, First Daughter of the House of Morrighan.
The Kingdom of Morrighan is steeped in tradition and the stories of a bygone world, but some traditions Lia can't abide. Like having to marry someone she's never met to secure a political alliance.
Fed up and ready for a new life, Lia flees to a distant village on the morning of her wedding. She settles in among the common folk, intrigued when two mysterious and handsome strangers arrive—and unaware that one is the jilted prince and the other an assassin sent to kill her. Deceptions swirl and Lia finds herself on the brink of unlocking perilous secrets—secrets that may unravel her world—even as she feels herself falling in love.
The first few chapters were interesting and it got me right in, but after that, things were so draggy and slow to the point where I put it down for a day and started another book. However, I heard that the second half is better and overall, I've heard great things about this book so I really didn't want to give up on it. I continued it and boy, am I glad I did! It gets so much better in the latter half. Everything happens pretty fast and I felt so bad for Lia and teared up. :-( There are good books and then there are the books that move me to tears...and this was one of them! Mary Pearson does a great job making it seem as if I was not only reading it, but rather I was actually there watching the action unfold.
Some aspects of the world that Ms. Pearson has created remain pretty unclear and sometimes confusing, like the religious aspects and the magical elements. At the same time, however, the world of
The Kiss of Deception
is truly unique and I find myself wanting to know more about each Kingdom. I'd even say that this series is on the verge of being high fantasy.
As for the characters, I love Lia; in fact, I'd go so far to say that she is probably my favorite YA heroine
ever
. She takes her fate to her own hands while acknowledging forces beyond her control, she's caring without being unrealistically selfless, she's talented without being unrealistically excellent in everything, and she's kickass without being annoying. Bottom line, she's a realistic and easily likable character. I also love both Kaden and Rafe and I thought it was interesting how the author doesn't make it clear who's the assassin and who's the prince until halfway throughout the story; I actually thought they were the other way around based on their physical descriptions.
Normally, I'm not too fond of love triangles since the girl tends to dilly dally and lead both of them on an that annoys me to no end, but this love triangle is different. Despite both men clearly having feelings for her, I knew and Lia herself knew who she
loves
based on her actions and thoughts and there is no hesitation.
I will be eagerly awaiting the second book,
The Heart of Betrayal
, which cannot come sooner.