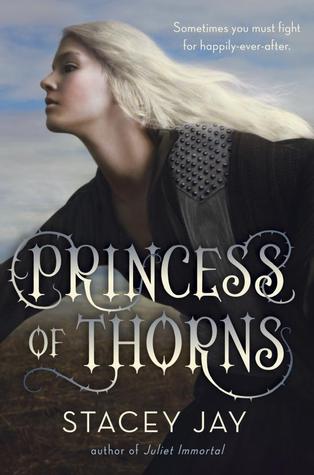 Princess of Thorns by Stacey Jay
Rating: 4 Stars
Series: N/A
Release Date: December 2014
Goodreads Synopsis:
Game of Thrones meets the Grimm's fairy tales in this twisted, fast-paced romantic fantasy-adventure about Sleeping Beauty's daughter, a warrior princess who must fight to reclaim her throne.
Though she looks like a mere mortal, Princess Aurora is a fairy blessed with enhanced strength, bravery, and mercy yet cursed to destroy the free will of any male who kisses her. Disguised as a boy, she enlists the help of the handsome but also cursed Prince Niklaas to fight legions of evil and free her brother from the ogre queen who stole Aurora's throne ten years ago.
Will Aurora triumph over evil and reach her brother before it's too late? Can Aurora and Niklaas break the curses that will otherwise forever keep them from finding their one true love?
Sleeping Beauty/Aurora has always been my favorite Disney princess. Although this book is marketed as the story of Sleeping Beauty's daughter, there is very little similarity. Remember Prince Phillip? The dashing true love of Aurora that woke her up from her eternal sleep and freed her from her curse? He has been replaced by Prince Stephan. Nope, he doesn't have any of the qualities that Prince Phillip has. In fact, he is an unfaithful husband that tricked Sleeping Beauty into marrying him and he has not one, not two, but three wives! Oh, and his stepmother is an ogre and the primary antagonist.
I was kind of disappointed with the idea that it's supposed to be a Sleeping Beauty retelling of some sort. The book would have fared perfectly fine if it hadn't been based off of a fairy tale since at the moment, the only things from the actual fairy tale are some of the names and the presence fairies. Aside from that, it wasn't a bad story at all. There weren't many draggy parts throughout and I was engrossed throughout, especially towards the last quarter of the book. As far as I know, this is a standalone book, which is great because the ending is wonderful. I can't think of how Stacey Jay could possibly continue Aurora and Niklaas's story and keep it up on par with the amount of action and adventure in Princess of Thorns.
Last but not least, the characters. Sometimes the characters are just infuriating. Why on earth would Aurora do that to Niklaas when she knows very well the consequences due to her fairy magic? (That was my attempt at being as spoiler free as possible). I know she was trying to help Niklaas but that was downright stupid. I also felt Jay could have developed some of the supporting characters some more. We saw multiple dimensions to Aurora and Niklaas, but the supporting characters, like Jor, Thyne, and others are quite boring.
I debated between giving this book a 3 and a half or 4 stars, and ultimately decided on the latter since despite its flaws, it made a great story and the idea was interesting.